Here's related to the philosophy of science.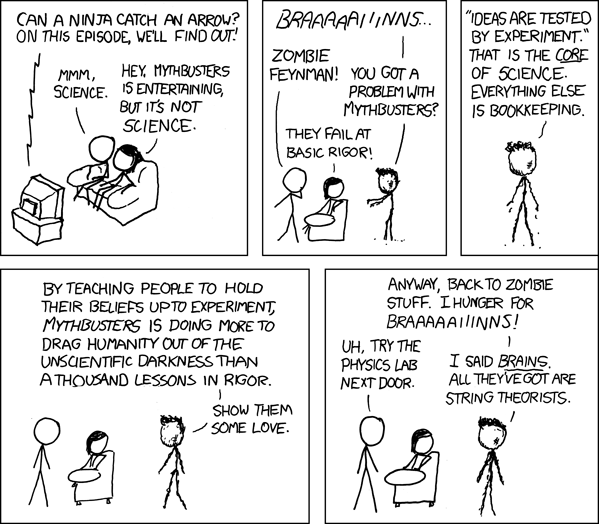 Zombie Feynman expresses the view that experiment is more important than rigour. I note that he doesn't dispute the assertion that Mythbusters "fail at basic rigour", so we can reasonably surmise that he agrees about the sloppiness, and his point is that experiment is more important than rigour. It's more important because teaching people to expose their beliefs to experiment does more to "drag humanity out of the unscientific darkness than a thousand lessons in rigour".
I disagree with Zombie Feynman. The removal of rigour from the experimental process is a direct assault on the reliability of the conclusions drawn from the experiment, and what is the benefit of the experimental method if not its alleged reliability relative to other approaches? Extolling experiment over rigour has the doubly-damned effect of removing the reliability from the process while simultaneously sustaining the illusion that the conclusions are more reliable than anything else. A sufficiently assumption-ridden and uncontrolled experiment offers nothing in the way of real evidence to support the conclusion, but if we elevate "experiment" as a source of truth in this way, then people will believe it, just because an experiment was involved. It elevates method over reliability, and will only drag them out of unscientific darkness into scientific darkness.
Experiment without rigour breeds the kind of science that tests for whether a woman is a witch by seeing if she .
Rigour should be held in higher regard than experiment. A rigorous argument that lacks experiment provides greater clarity than an experimental result that lacks rigour.